Introduction
The veterinarians and staff at Matthews Animal Clinic are pleased to provide you with an online newsletter of pet-related articles and news stories.
This fun and fact-filled newsletter is updated on a regular basis.
Included in the newsletter are articles pertaining to pet care, information on our animal hospital, as well as news on the latest trends and discoveries in veterinary medicine. Get started by browsing the Current Newsletter Topics links that pertain to each article.
Please enjoy the newsletter!
February is National Pet Dental Health Month
Dental care is vital to your pet's health. If you've already established a dental care program for your pet, you're off to a great start. But if your pet hasn't received a dental exam from your veterinarian, it's time to get started. February is National Pet Dental Health Month, the perfect time to schedule a dental exam for your pet and develop a home dental care regimen for your best friend.
Why is dental care so important for your pet? Periodontal disease is the number one diagnosed problem in pets. By the age of two, more than 80 percent of dogs and 70 percent of cats have periodontal disease in one form or another. The buildup of plaque and tartar on your pet's teeth leads to bacterial infections that can enter the bloodstream and infect other parts of your pet's body. Periodontal disease has been linked to heart attacks, strokes, kidney disease, osteoporosis and other problems.
The good news is that periodontal disease is easily prevented. Regular dental cleanings and a home dental care regimen can eliminate the plaque and tartar that lead to gum disease and oral infections. During a dental cleaning, your veterinarian also performs a complete oral examination of your pet. This includes screening for oral cancer, broken teeth and cavities. Spotting these problems early makes them easier to treat and improves your pet's overall oral health.
Your pet's dental cleaning is more involved than the same process you go through at your dentist's office. Anesthesia is required to keep your pet still and comfortable during the procedure. Because of this, your pet undergoes a thorough physical examination before each dental cleaning. Laboratory blood tests, as well as other diagnostic procedures are also used to screen for potential problems and risks before anesthesia is administered. Using these results, your veterinarian develops a safe anesthetic protocol specifically for your pet.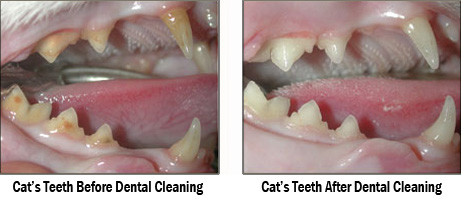 During a dental cleaning, tartar is removed from your pet's teeth with a hand scaler. Next, a periodontal probe is used to check for pockets under the gumline - where periodontal disease and bad breath start. An ultrasonic scaler is used to clean above the gumline and a curette is used to clean the teeth under the gumline and in the crevices. Finally, the teeth are polished and an anti-bacterial solution is applied to help delay future tartar build-up.
Dental care doesn't end in your veterinarian's office. Brushing your pet's teeth at home is an added level of protection against gum disease. In order to be most effective, brushing must be done at least three times a week; however, daily brushing is ideal. Brushing your pet's teeth can be supplemented with antiseptic rinses. Some pet foods and treats are also effective in preventing plaque and tartar buildup. However, there is no substitute for regular brushing and professional dental cleanings.
Call your veterinary hospital to schedule a dental examination and cleaning for your pet today. Your best friend will thank you!
A Safe Home for Your Cat
Since many of us believe that a house is not a home without a cat, we need to ask ourselves if our home is a safe place for them. If you have children, many of the safety measures needed for cats are probably already in place. If not, then it is necessary to look around the house and fix potential hazards.
Even cats that spend most of their time indoors may be exposed to a number of potential hazards. Disinfectants, drain cleaners and detergents are among the many household chemicals that are toxic to your pet. They should be stored in tightly closed containers and secured cabinets where pets are unable to reach them. Medicines should also be out of reach as common painkillers such as Advil and antidepressants are poisonous to cats.
Sharp objects such as knives and forks, carpet tacks and pins should be kept out of reach. Children's toys and small objects may attract a playful kitty and become lodged in its mouth or swallowed. Although kittens are sometimes pictured with a ball of yarn, a playful kitten and yarn are a bad combination. If ingested, yarn as well as any kind of thread, twine or ribbon could cause serious damage to the esophagus and intestinal tract of your cat.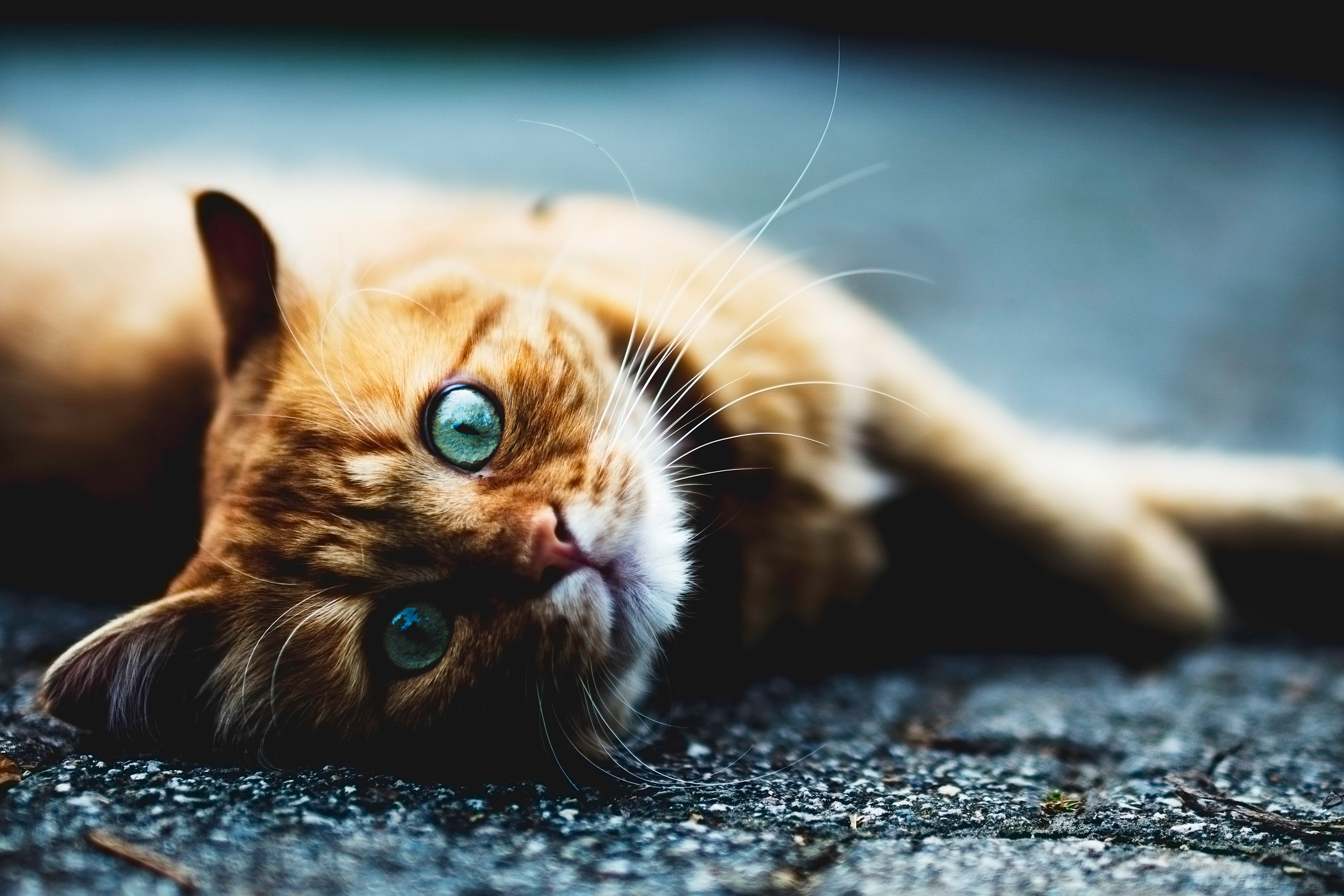 According to the National Safety Council, as many as 5,000 house fires a year can be attributed to pets as a result of their chewing of electrical cords. In order to prevent this hazard, do your best to keep electrical wiring out of your cat's sight and reach. Exposed lamp cords and other wires should be kept as short as possible. If extension cords are used, tack them against a baseboard or run them under a carpet so they cannot be played with or chewed.
If you live in an apartment, your cat may be vulnerable to "high-rise syndrome." If your window screens are not securely fastened, a cat may fall from a window and suffer serious injuries, if not death. A cat should be sufficiently restrained or confined if allowed on an apartment balcony.
According to the Center for Disease Control, 74 percent of homes in the United States built prior to 1980 contain hazardous amounts of lead paint. As with humans, any item containing lead can be extremely harmful to a cat. Harmful effects may not show up until weeks after ingestion. Signs of lead poisoning include vomiting, diarrhea or constipation, loss of appetite, loss of muscle coordination, blindness and seizures. Consult your veterinarian immediately if you think there is a possibility of lead poisoning.
In addition to indoor dangers, outdoor hazards are often found in the garage or shed. Harmful products include windshield cleaners, weed killers, insecticides, used motor oil and antifreeze. Many cats are attracted to the sweet taste of antifreeze (believe it or not!) containing the chemical ethylene glycol which is highly toxic to cats. If it is spilled on the ground or leaking from your car, it can combine with a puddle making it exceptionally easy for your cat to drink it. New antifreeze products have been introduced that claim to be non-toxic to pets, but it's always better to be safe than sorry. Be sure to clean up spills of any questionable liquid to avoid injuring your kitty.
Wherever the hazard may come, it is important to remember that your cat is not so different from a child. Curious paws and noses may inevitably discover areas that have yet to be "kitty-proofed." Once you get to know the likes and dislikes of your cat, it would be much easier to determine what is hazardous and what has not made your cat's priority list of noteworthy attractions.
Flying with Your Pet
Flying may not be the ideal way to travel with your pet, but sometimes there are no other options. In fact, over two million pets and other live animals travel by air every year in the United State. Unfortunately, it can be difficult to know what the policies are regarding pet air travel as they vary from airline to airline. Furthermore, states in the U.S. and national governments impose different restrictions. Whether you're flying coast-to-coast, cross-Atlantic, or half-way across the world, there will be specific guidelines to follow before you take to the skies.
Here are a few standard regulations that are helpful to know if you're considering flying with your pet. If you have more questions, contact your airline directly. Most times, the specific policies and procedures are listed on the airline's website, or you can call the airline's reservations line and speak with an agent.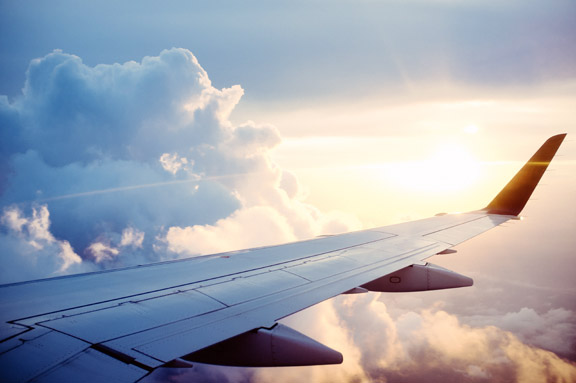 Pets in the Passenger Cabin
Policies regarding animals in passenger cabin vary from airline to airline with one exception – service animals. Since service animals are not considered pets and are needed to aid those with disabilities, they are always allowed to stay in the passenger cabin. Service animals do not require health certificates to travel, nor do they need to be in a container or cage.
The Federal Aviation Administration (FAA) allows each airline to enforce its own individual policy regarding pets in the passenger cabin, but the FAA requires:
The pet container must be small enough to fit underneath the seat without blocking any person's path to the main aisle of the airplane.
Your pet container must be stored properly before the last passenger entry door is closed so the airplane can leave the gate.
The pet container must remain properly stowed the entire time the plane is moving on the tar mac, as well as during take off and landing.
Despite differing procedures, there are a number of general policies you'll encounter that allow for all passengers to have a comfortable flight. Some of these policies may include:
Restrictions on the different types of animals allowed aboard
A limit on the number of pets allowed in the cabin
A requirement that your pet is harmless to fellow passengers, including inoffensive and odorless
A requirement that you be able to produce a recent health certificate for your pet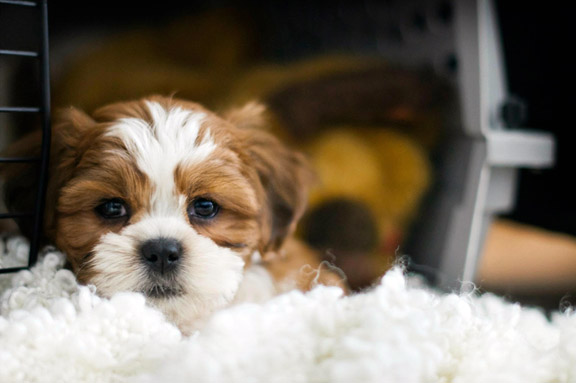 Tips for Safe Air Travel with Your Pet
As a pet owner, you are responsible for the welfare of your animal while traveling. In addition to federal regulations and airline policies, here are a few things you can do to help make traveling with your pet easier and safer:
Before traveling, it's best to help your pet get accustomed to its kennel. Also make sure that the door latches securely.
Don't feed your pet solid food at least six hours before the flight. A moderate amount of water and a walk before and after a flight are strongly advised.
Ask your veterinarian if it would be best for your pet to be tranquilized for the trip. It's also a good idea to try a test dose before travelling to gauge how your pet will react.
Health certificates must be issued 10 days before travel. Rabies and vaccinations certificates are also required.
Reserve a space for your pet in advance with the airline. Also ask about the time and location for drop-off and pick-up for your pet. Because of restrictions on the number of animals permitted, reservations are accepted on a first-come, first-served basis.
Ideally, try to book a non-stop flight. This will help reduce stress and worry for you and your pet. If possible, avoid connections or traveling during the weekend or holidays.
For overseas travel, ask about any health requirements including policies pertaining to quarantine.
Be sure to write your name, address and phone number on your pet's carrier, and make sure your pet is wearing a tag with the same information. A temporary tag that shows your destination address and phone number is also a good idea, as is bringing a picture of your pet in case it becomes lost.
Tips for a Well Behaved Dog
Start training your puppy at an early age. While old dogs can be taught new tricks, what's learned earliest is often learned quickest and easiest. Also, the older the dog, the more bad habits he may need to unlearn.
Train your dog gently and humanely. Use positive rewards and motivation methods. Rewards should be the rule and reprimands should be the rare exception. Keep obedience sessions lively, so that the training process is enjoyable for all parties. Training your dog should not be drudgery.
Does your dog listen to you and obey you at home? Does he treat you like a human gymnasium when you're sitting on the furniture? Does he beg at the table? Jump up on visitors? Demand your attention by annoying you to death? Ignore your commands?

How well your dog responds to you at home affects his behavior outside of the home. If your dog doesn't respond reliably to commands at home, where distractions are relatively minimal, he certainly won't respond to you properly when you are outdoors and he's tempted by other dogs, pigeons, passersby, sidewalk food scraps, etc.
Avoid giving your dog commands that he cannot obey. Each time you give a command that is neither complied nor enforced, your dog learns that commands are optional.
One command should equal one response. Give your dog a command, say it once (twice, maximum!), and then gently enforce it. Repeating commands tunes your dog out, as does nagging, and teaches your dog that the first several commands are a bluff. For instance, telling your dog to "sit, sit, sit, sit" is neither an efficient nor effective way to issue commands. Simply give your dog a single command, gently place or lure him into it, and give him praise or reward.
Avoid giving your dog combined commands which are incompatible. Combined commands such as "sit-down" can confuse your dog. Use either "sit" or "down".
When giving your dog a command, avoid using a loud voice. Even if your dog is especially independent/unresponsive, your tone of voice when issuing an obedience command should be calm and authoritative, rather than harsh or loud.
Whenever possible, use your dog's name positively, rather than using it associated to reprimands, warnings or punishment. Your dog should trust that when he hears his name good things happen. His name should always be a word he responds to with enthusiasm, never hesitancy or fear.
Correct or prevent the unwanted behavior. Don't punish, but try to teach him. Do not reprimand or get even with him. After-the-fact discipline does NOT work. If you're taking a "whip 'em into shape" approach, you'll undermine your relationship with him. Also, you'll be missing out on all the fun that a motivational training approach can offer.
When training your dog, timing is everything. Take the following example: You've prepared a platter of food for a small dinner party and it is sitting on a small table in the dining room. Your dog walks into the room and smells the food. He air-sniffs, then eyes the food, and is poised to jump up. This is the best, easiest and most effective time to correct your dog's behavior - while he's thinking about jumping up to get the food. If he has already eaten the food and is resting comfortably in his bed, correcting him at this point is useless. He cannot associate something that occurred earlier with a correction that he is receiving at the present time.
Often, dog owners inadvertently reinforce their dogs' misbehavior by giving them lots of negative attention when they misbehave. Needless to say, if your dog receives lots of attention and handling when he jumps up on you, that behavior is being reinforced, and is therefore likely to be repeated.
Keep a lid on your anger. Never train your dog when you're feeling grouchy or impatient. Earning your dog's respect is never accomplished by yelling, hitting, or handling your dog in a harsh manner. Moreover, studies have shown that fear and stress inhibit the learning process.