Introduction
The veterinarians and staff at Matthews Animal Clinic are pleased to provide you with an online newsletter of pet-related articles and news stories.
This fun and fact-filled newsletter is updated on a regular basis.
Included in the newsletter are articles pertaining to pet care, information on our animal hospital, as well as news on the latest trends and discoveries in veterinary medicine. Get started by browsing the Current Newsletter Topics links that pertain to each article.
Please enjoy the newsletter!
March 23 is National Puppy Day
March 23 is National Puppy Day! Since 2006, National Puppy Day celebrates the magic and unconditional love that puppies bring to our lives. Over the years, this holiday has grown into an international holiday, and has trended on Twitter since 2012.
Creator Colleen Page—who also founded National Dog Day and National Cat Day—created this event to help save orphaned puppies across the globe while educating the public about the horrors of puppy mills. According to the National Puppy Day website, there are approximately 8,000-10,000 puppy mills in the U.S. , including many businesses that call themselves breeders that purposely allow their dog to get pregnant in hopes of selling puppies through local papers or online.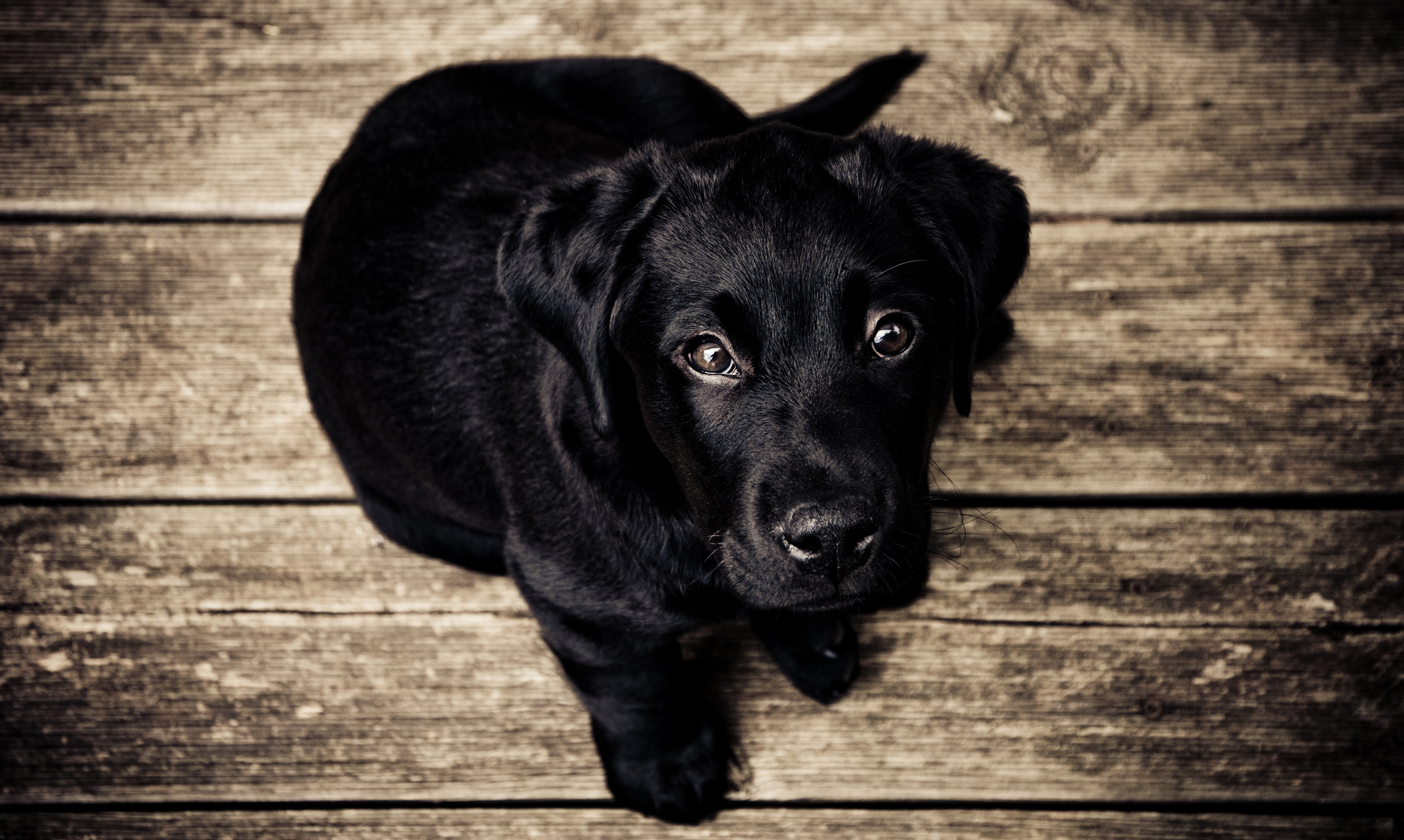 "The tragedy of puppy mills is that they don't care about the animals more than a commodity to be sold," National Puppy Day's website reads. "Most of these animals live in crammed cages with no room to movie, in complete and utter squalor."
While National Puppy Day is a great day to post pictures of your adorable puppy to your Twitter feed, don't forget why we celebrate this holiday: for the fair and ethical treatment of dogs across the world. To learn more about National Puppy Day and why adopting a puppy is important, visit http://www.nationalpuppyday.com/
Diet and Heart Disease Debate
Statement:
The FDA released a warning for canine dilated cardiomyopathy (DCM) in dogs eating certain dog foods that contain peas, lentils, and other legume seeds, or potatoes as the main ingredients (grain-free). There is also concern with "boutique diets" that are not regulated to contain a complete and balanced nutrition accordingly to the Association of American Feed Control Officials (AAFCO).
Recently, they have released a list of certain brands that have been implicated. Research is still being done with no definitive answers as of yet. At this time, Matthews Animal Clinic is recommending that you continue a grain free diet ONLY if there is a true medical reason but, otherwise, we would recommend either avoiding grain free diets (especially those on the FDA list) and boutique diets that do not contain an AAFCO statement or having an in-depth discussion with one of our doctors on other recommendations.
FDA list of brand names most frequently associated with dilated cardiomyopathy cases:
Acana, Zignature, Taste of the Wild, 4Health, Earthborn Holistic, Blue Buffalo, Nature's Domain, Fromm, Merrick, California Natural, Natural Balance, Orijen, Nature's Variety, Nutrisource, Nutro, Rachael Ray Nutrish
Website: https://www.fda.gov/animal-veterinary/news-events/fda-investigation-potential-link-between-certain-diets-and-canine-dilated-cardiomyopathy
Tick Prevention
Tick, Tick, Tick: For Tick-Borne Infections and Unprotected Pets, it's Only a Matter of Time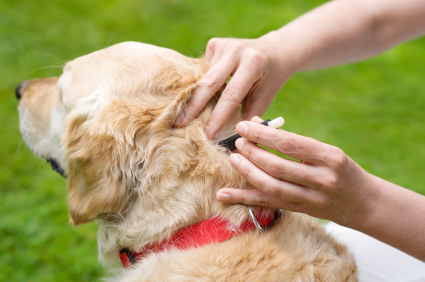 Last week, while lavishing my dog with some behind-the-ear scratches after a walk together in the woods, I found a tick on her leg. This was alarming for a couple of reasons. Not much larger than a freckle, the critter nearly escaped my notice. Even when I did see it, I almost dismissed it as a speck of dirt or a bit of lint—after all, it had been six months since I had needed to be vigilant. Then I remembered: It's spring, the weather is getting warmer, and here come the ticks—especially the tiny, easily-overlooked deer ticks that carry Lyme disease.
And there are even more reasons to be concerned. According to an article in Veterinary Practice News, tick populations are increasing and are poised to reach unprecedented levels in 2013, due to a number of factors including warmer winters, decreased insecticide usage, and the white-tailed deer population, which has swelled as a result of successful conservation efforts. White-tailed deer are ticks' primary mode of travel and the main reason they are so widespread, although other migratory animals such as birds and coyotes transport ticks as well.
Aside from Lyme disease, ticks can carry almost a dozen human and animal diseases, including Rocky Mountain spotted fever, anaplasmosis, babesiosis, ehrlichiosis, and Cytauxzoon felis, a deadly organism that afflicts domestic cats.
Treatment a necessity, not an option
When it comes to illnesses, prevention is generally the least costly and least stressful option, and tick-borne infections are no exception.  Given the emerging statistics about tick population growth and disease, prevention protocols should be considered a standard, not optional, part of pet care—as important as semi-annual wellness exams, vaccinations, and even fresh water and food.
Talk to your veterinarian about tick-borne diseases that are specific to your area and about implementing an effective protection plan. Options include:
Lyme disease vaccine
Veterinarian-recommended tick and flea preventive products
A long-lasting insecticide yard spray that will kill both tick eggs and larvae
Regardless of the method, or combination of methods, you choose, it is a good idea to always thoroughly check your dog after being outside, especially in woodsy, grassy, or brushy areas. If a tick is attached to your dog's skin, remove it carefully with tweezers, and wash the affected bite area and your hands with soap and water afterward.
Is Sleeping With A Pet Beneficial Your Health?
A recent study by the Mayo Clinic's Center for Sleep Medicine in Arizona reported some people may benefit from sharing a bed with a pet. The study looked at 74 pet owners – 56 percent of whom allow their pet in the bedroom with them. Of those, 41 percent believe sleeping with their pet is beneficial to sleep.
A good night's sleep does more than leave you feeling well-rested. It plays an important role in overall immune function, metabolism, memory, learning and more.
Strengthen Your Bond by Sharing Your Bed
Dr. Ken Tudor, former Veterinary Medical Officer for the United States Department of Agriculture, believes the benefits of sharing a bed with a dog stem from our evolutionary partnership. Domestication of the wild dog undoubtedly included the animals joining "man at the camp fire and later snuggling closely with him for mutual warmth."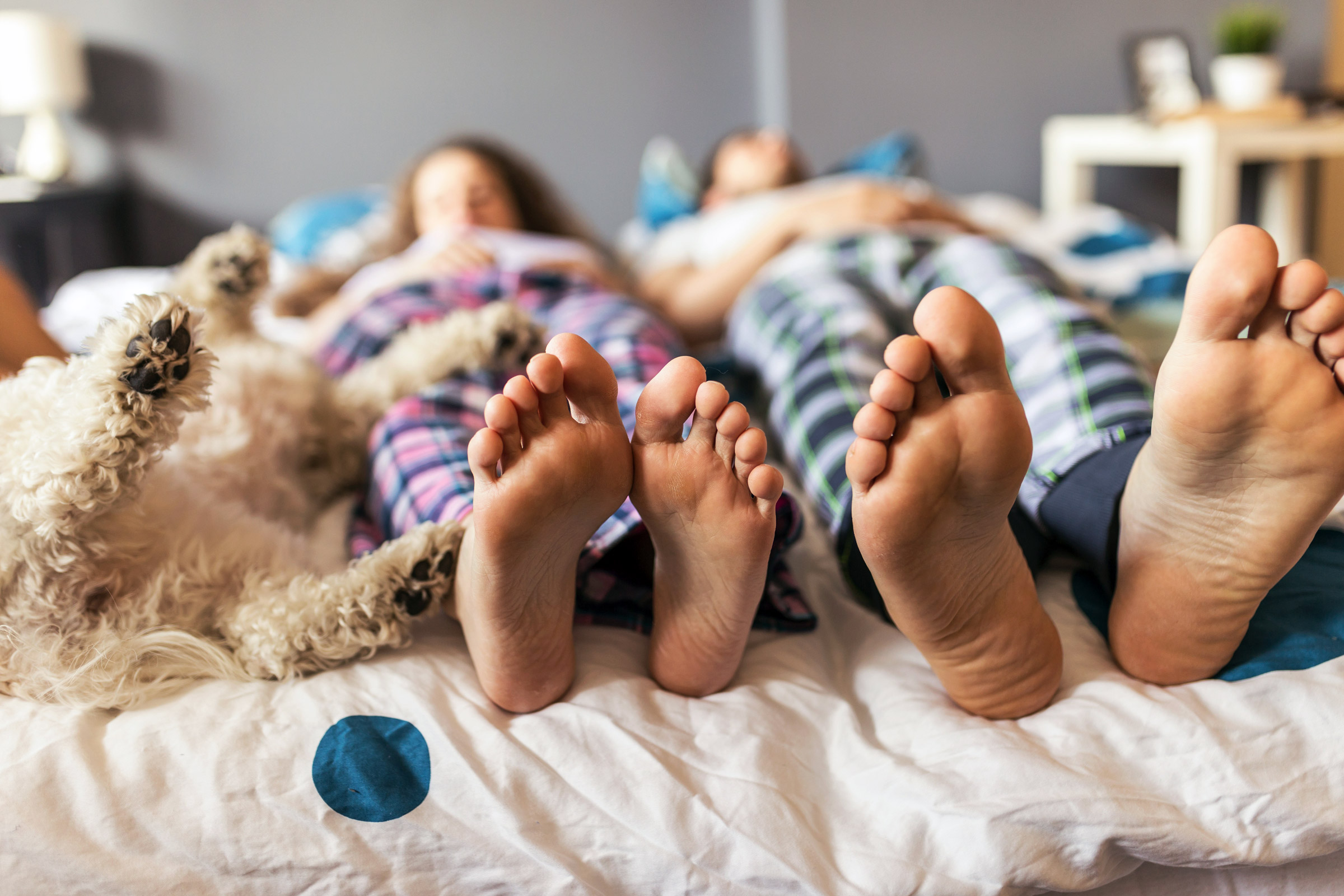 In addition to reporting better sleep, respondents also noted a greater sense of security. This could be from the simple reassuring presence of another warm body or because pets often double as protectors who will alert their owners to intruders. Dr. Tudor emphasizes that being in consistent proximity with an animal fosters bonding and a more intimate relationship.
"Some people find that sleeping with their animal actually helps them feel cozy," said Dr. Lois Krahn, a sleep medicine specialist at the center. "One woman said her two small dogs warmed her bed. Another person felt her cat who was touching her during the night was comforting and soothing."
Results May Vary
Although the majority of pet-owning respondents reported sharing their bedroom with their pet, another 20 percent admitted the bed-hogging, snoring or moving around can be disruptive.
Interrupted sleep has been linked to preventing slow-wave sleep and a worse mood than non-interrupted sleepers upon waking. The Mayo Clinic advises patients who have sleep concerns to inquire about whether or not their sleep environment should be shared with a companion animal.
"I think from a sleep standpoint, multiple pets increase the risk of bad sleep," said Krahn.
Cat Behavior and What It Means
Domestic cats are descendants of the African wildcat, and many of the characteristic behaviors of these ancestors are still exhibited by cats today. An understanding of the origin and purpose of such behaviors can help cat owners appreciate their feline companions more fully and lead to an enhanced human-animal relationship.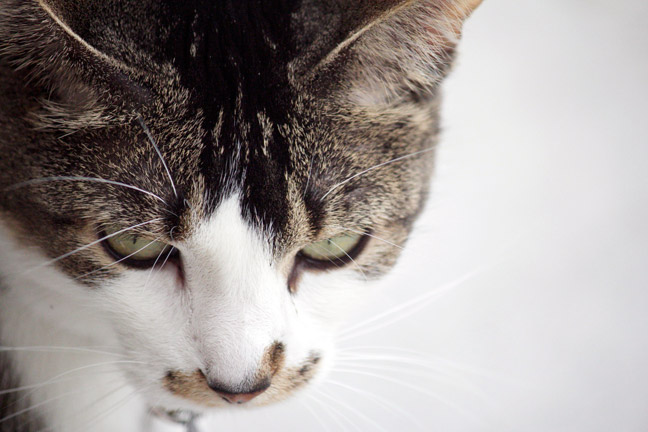 Social Behavior
Once thought to be a social animals, it is now recognized that domestic cats can form complex social groupings. Studies have repeatedly shown that they form territories or ranges in which they live and defend these from intruders. In stable situations, cat territories can overlap without overt antagonistic interactions.
Communication
The cat has three primary methods of communication: vocal, visual and olfactory. Vocal communication involves a variety of sounds that convey different messages. Visual communication involves the body posture and facial expressions. For example, the position of the ears, hair and tail can offer important information about the emotional state of the cat. Olfactory communication plays a very important role in communication. The deposition of scents via facial marking, anal secretions and urine marking is an important communication tool for the feline.
Sexual Behavior
Female cats are seasonally polyestrus, with peaks in the Northern Hemisphere occurring from January to March and again from May to June. If they are not bred, estrus will last about 10 days and the female will cycle every three weeks for several months. During estrus, the female will engage in increased activity, vocalizations and marking with urine and other glandular secretions. Crouching with rear end elevated and rolling are common body postures that a female may exhibit during estrus.
Eating Behavior
In the wild, the cat developed as a solitary hunter that targeted various small prey. This led to an eating pattern of multiple small meals with considerable variety in the diet. Many domesticated cats continue this pattern and exhibit a preference for a variety of foods.
Bathroom Behavior
Kittens start to eliminate independently at about 4 weeks of age. They instinctively prefer to eliminate in fine particulate material with good drainage. Most cats will investigate a potential spot, dig a hole and pass urine or feces in the squatting position. Cats usually will then cover the elimination.
Sleeping Patterns
Although cats have traditionally been described as nocturnal creatures, they are actually crepuscular by nature, which means that they are more active in the twilight and evening hours. The average adult cat spends 10 hours per day sleeping and an additional five hours resting.
9 Ways to be Kind to Animals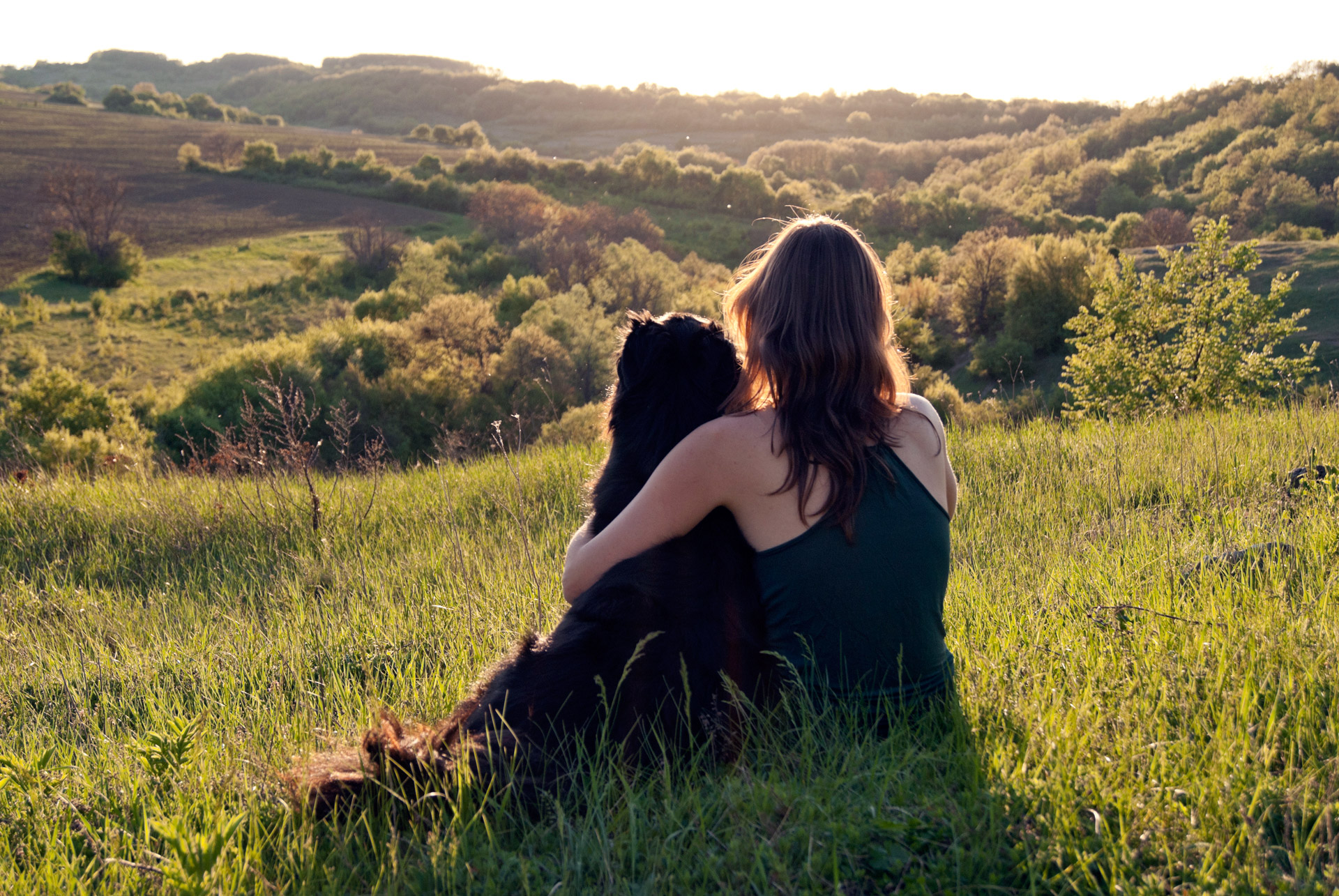 They make us laugh. They're our best friends. They're a source of comfort. If you love your pets, it's easy to share and show your kindness to animals as well. Here are some ideas on how you can spread the love and be kind to animals:
1. Speak out for animals
2. Never tolerate animal cruelty
3. Adopt a shelter pet
4. Spay or neuter your pets
5. Keep pets' vaccinations current
6. Identify your pets with tags or microchip
7. Appreciate wildlife
8. Leave room for animal habitats
9. Interest others in the cause